Security Yearbook 2021 Advertising and Sponsorship Options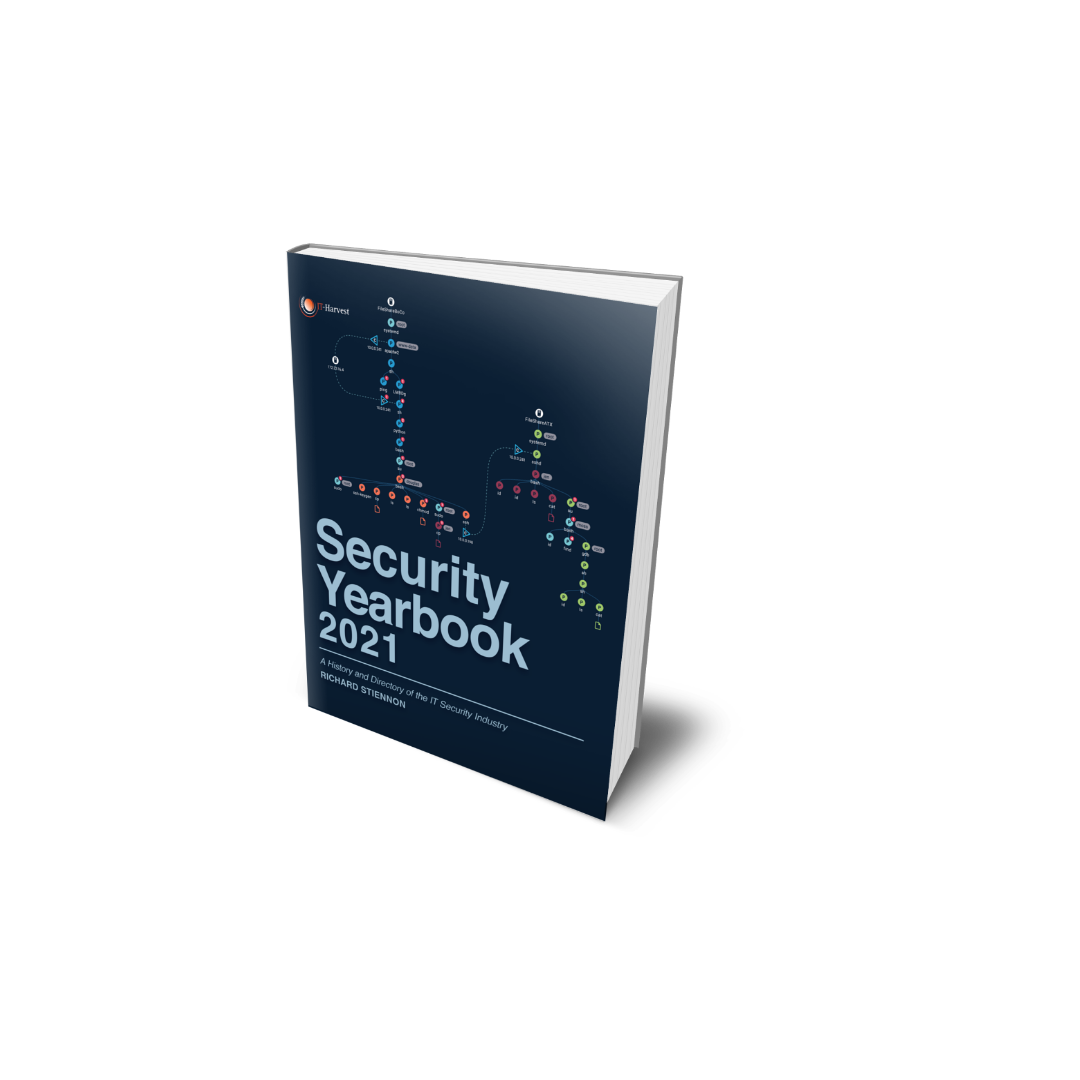 The window for sponsoring Security Yearbook 2021 is closed as we head into production. Thank you to all of our sponsors and advertisers!
Check back in June, 2021, for details on sponsoring Security Yearbook 2022. In the meantime, scroll down to see how you can leverage the Security Yearbook for lead-gen today.
Security Yearbook 2021 is the second edition of an annual publication that records the history of the IT Security industry and provides a complete catalog of all the vendors. Thousands of copies will be in the hands of media, analysts, and most importantly, security technology buyers.

Make sure you stand out in the crowd of competitors. Much like any extensive listing (remember the Yellow Pages?) a vendor can gain visibility by placing an ad with their value proposition and call to action.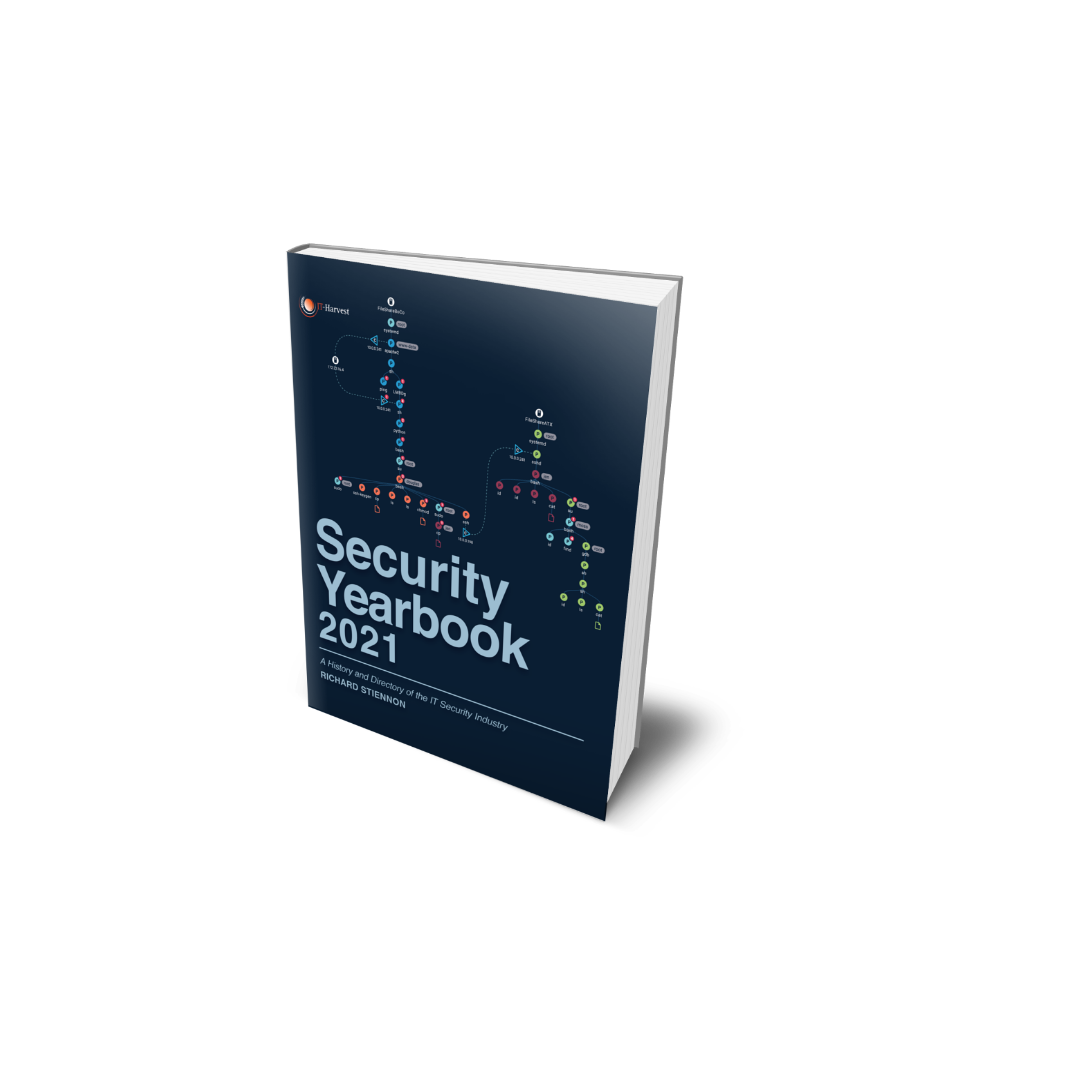 In this time of remote working and virtual conferences, you can send copies to your attendees and prospects. Give them something more than a gift card to attract them. Leave them with something that will stay in their library of security resources for years to come.
The industry directory is updated to reflect the changes to the vendorscape in 2020 including M&A, launches, and new funding. Over 3,000 vendors are listed by country and category. Each entry includes the number of employees and growth from the previous year. Security Yearbook 2021 is the only place this data is published. Security Yearbook is an indispensable desk reference for IT security practitioners, marketers, CISOs, and investors.
See Advertising Details Below
Email richard@it-harvest.com or call 650-388-6402
Sponsorships are available at the Platinum, Gold, and Silver levels.  Sponsors are featured in the opening pages of the book and are recognized at www.security-yearbook.com/sponsors.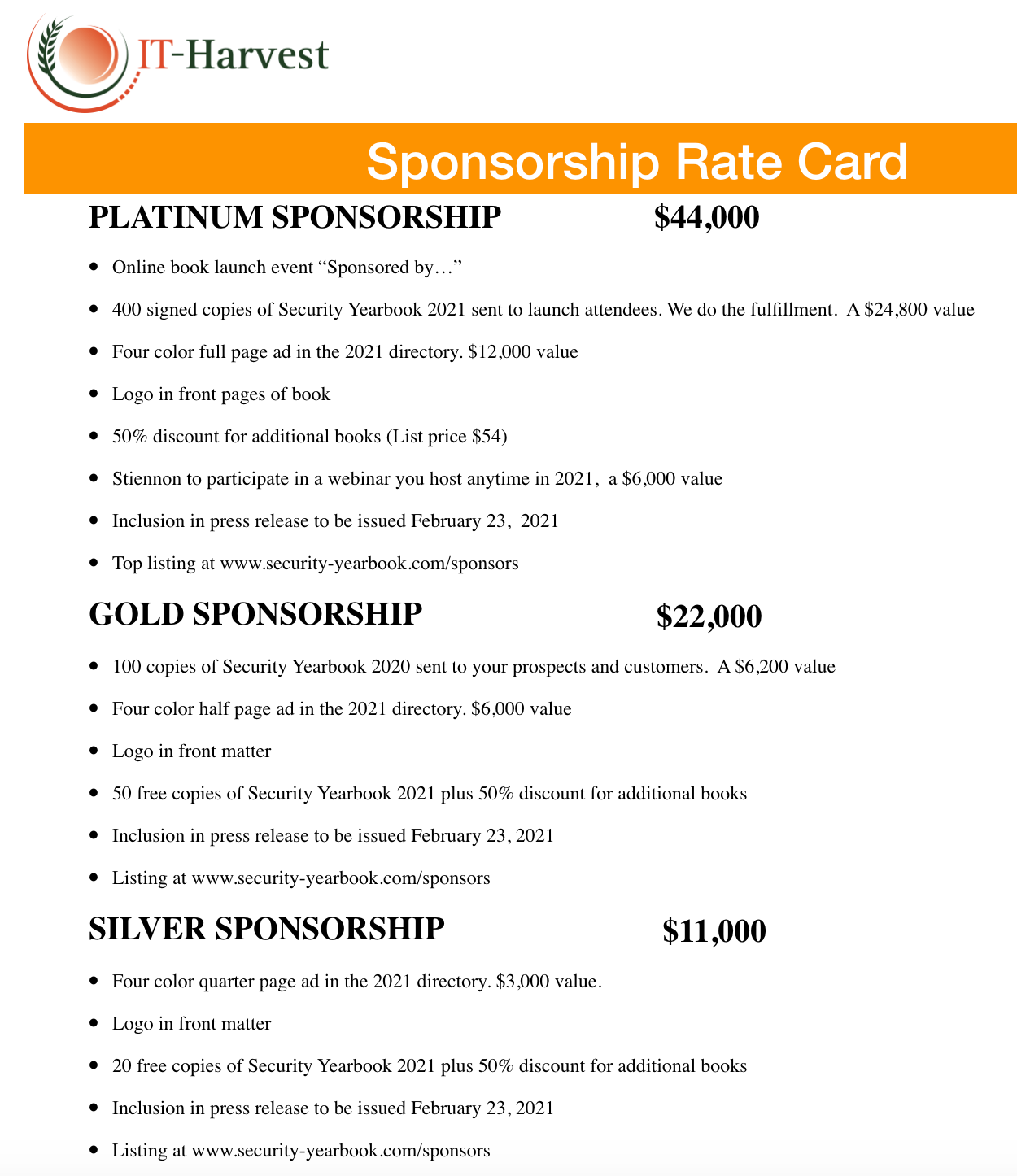 This year we are introducing full color ads to give you more options to display your solution in the best light.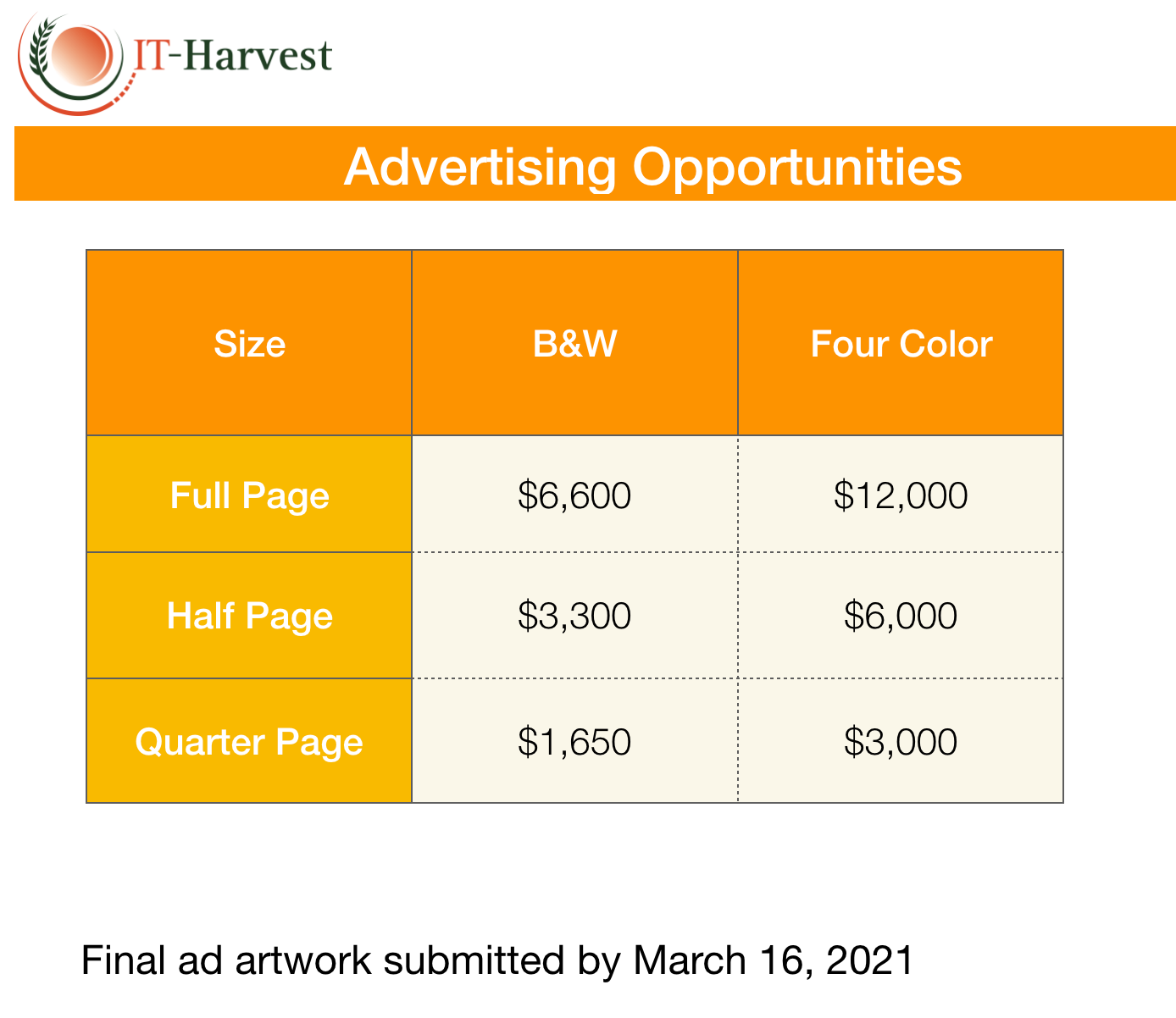 While a presence in the industry standard desk reference is of immense value, you may be looking for lead-gen opportunities. IT-Harvest Press can work with you to provide fulfillment services for physical books. This is available today for Security Yearbook 2020 if you want to get a jump on the New Year.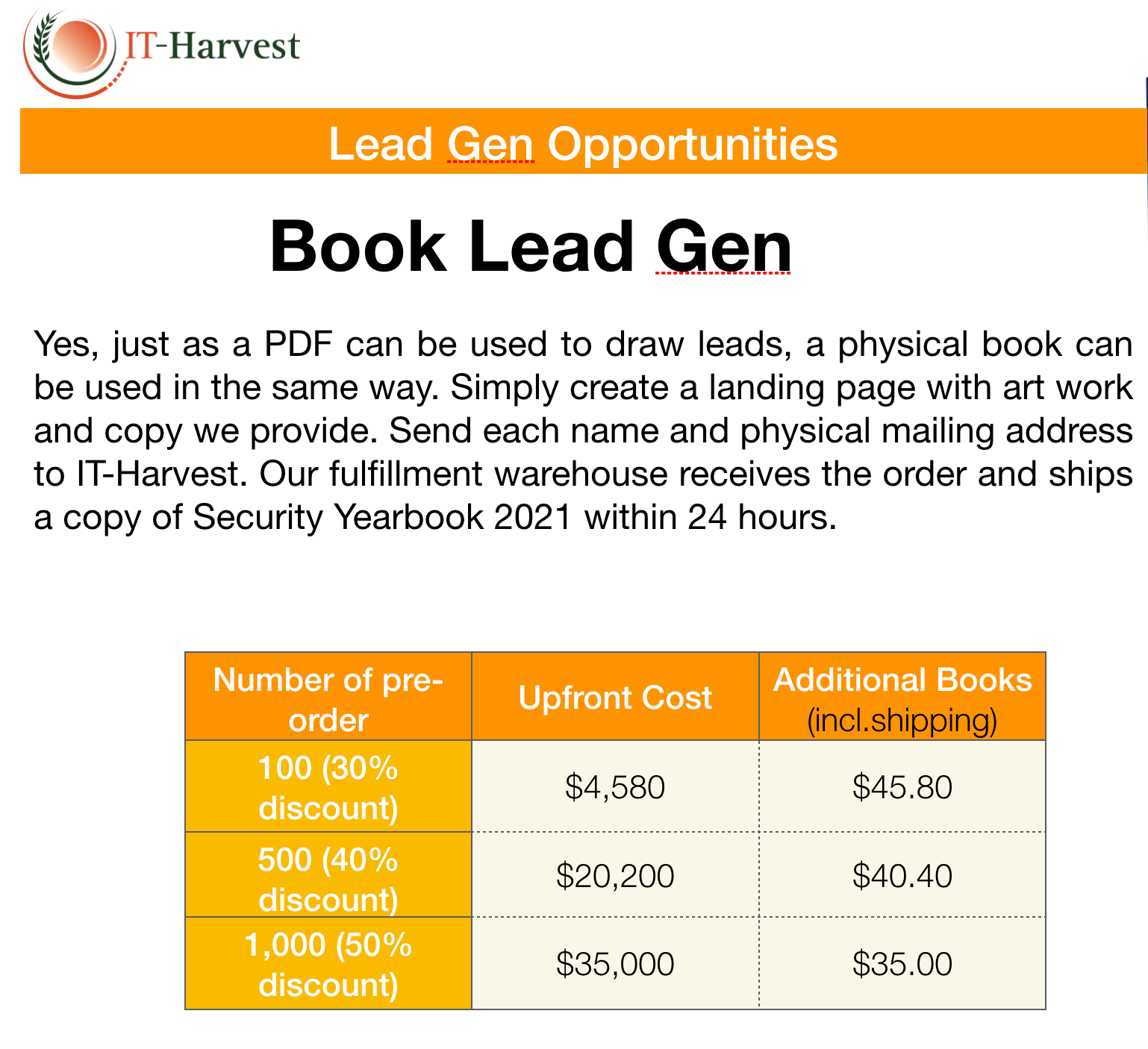 About the Author
Richard Stiennon is Chief Research Analyst for IT-Harvest, the firm he founded in 2005 to cover the 3,000 vendors that make up the IT security industry. He has presented on cybersecurity in 31 countries on six continents. He lectured on Cyberwarfare and Terrorism at Charles Sturt University and is a regular contributor at Forbes. He is the author of Curmudgeon: How to Succeed as an Industry Analyst, Stiennon on Security: Collected Essays 2010-2020, Security Yearbook 2020, Surviving Cyberwar and There Will Be Cyberwar.  Richard launched Secure Cloud Transformation, at RSAC 2019. He held leadership roles at Blancco, Fortinet, Webroot and Gartner.
1221 Bowers #1274 Birmingham, MI 48009, USA
| it-harvest.com | richard@it-harvest.com | +1 650-388-6402